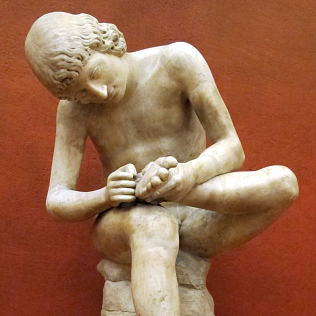 The Boy with Thorn, or Spinario, is an Hellenistic statue. In Italy there are several copies, one of which is on display at the Uffizi Gallery. Another copy, probably the oldest one, is located in Rome, at the Capitoline Museums. This was probably the model for the subsequent copies: the Florentine one and others, currently in Paris and in Moscow.
The Spinario was made in the first century A.D. The marble statue depicts a boy sitting with his legs crossed, while he is trying to remove a thorn from the sole of the left foot. Over time, art historians have interpreted the artwork as an athletic ex voto, as the depiction of Podaleiros, the son of Asklepios, the healer of feet, or as a genre scene.
During the Renaissance, the Spinario was one of the most popular sculptures of antiquity and it was an inspiration for many artists of that time. For example, Filippo Brunelleschi copied it into the gilded bronze panel with which he participated in the famous competition for the north door of the Baptistery of Florence cathedral.
The statue - in a first time - was stored at the Villa Medici in Rome. It has been at the Uffizi since 1772, after being at the Villa Medici at Poggio Imperiale. Between 1943 and 1945, during the Second World War, it was brought to Incisa Valdarno.