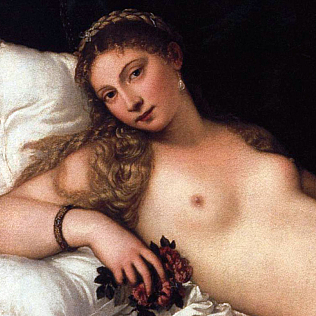 Tiziano Vecellio (1488/90 - 1576) is one of the greatest and most famous Italian artists. He was a citizen of the Republic of Venice.
Titian\'s art is based on a new and personal use of color, opposed to the primacy of drawing, typical of Michelangelo and of the Florentine School.
His date of birth is uncertain, but we know he started his artistic training very soon. He did his apprenticeship in Venice, with Gentile and Giovanni Bellini.
In 1516, Titian became the official painter of the Serenissima and his works show that he was fully aware of the high level achieved by his work.
The role of official painter and the investments he made over time made Titian the richest artist in history.
He worked mainly in Venice: here he often made paintings for foreign clients. His fame had spread to the courts of Central and Northern Italy and he frequented some of them. Tiziano came into contact also with the Spanish court of Charles V and portrayed several times the emperor and his wife.
During his life, Titian was a very famous artist. Many European courts commissioned his works. His influence on younger painters was deep and he is still considered one of the most important artists in the history of art.
There are ten works by Tiziano at the Uffizi Gallery. The most famous are the Venus of Urbino and the Flora, but in the room dedicated to the Venetian master we can also see some important portraits.