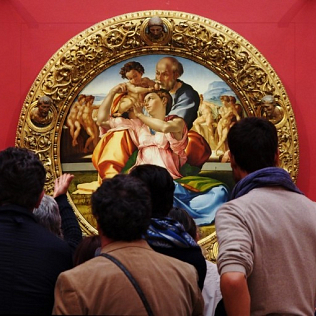 Thanks to Virtual Uffizi you will be able to make reservations for a professional guided tour, details about halls and artworks will be provided by a professional certified Tour Guide for Uffizi Gallery of Florence and its "Provincia".
This is the best way to make your journey through the history of art, a wonderful journey.
A guided tour will help you to study and better understand all of the assets housed at the Gallery. Starting from the early paintings of the thirteenth century, through the changes of Giotto, to the innovations of the Renaissance, masterpieces by artists such as Masaccio, Piero della Francesca, Botticelli, Leonardo, Michelangelo will no longer be a secret.
The guides will introduce you to all the rooms, the hall of Botticelli and Caravaggio to many other up to the Flemish and German one and the octagonal Tribune, taking you on a time travel of many centuries to discover masterpieces of world renown.
The building, which houses one of the most famous museums in the world for its extraordinary collection of paintings and antique statues, is also a work of art to admire.
The Gallery, located on the top floor, was built on a design by Giorgio Vasari between 1560 and 1580. With the guided tour you will have the opportunity to visit the Vasari Corridor too, a suspended corridor built by Vasari to connect the building with Palazzo Vecchio and Pitti Palace, which housts other important collections such as paintings of the seventeenth century and the collection of self-portraits.