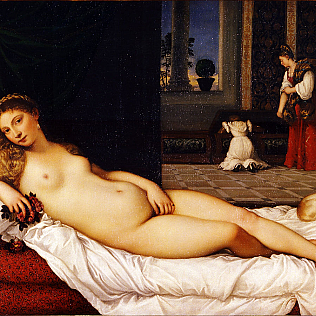 The Venus of Urbino was painted by Titian (1480/85 - 1576) in 1538 for Guidobaldo II Della Rovere, Duke of Urbino. The famous painting arrived in Florence with Vittoria della Rovere, who in 1637 married Ferdinand II de\' Medici. Vittoria was the last descendant of her dynasty. In 1654 the work was in the villa of Poggio Imperiale, just outside the city. According to documents, in 1736 the painting was already in the Uffizi Gallery heritage.
The Venus by Titian is a very famous painting. The beautiful Venus is depicted completely naked, with an intriguing look that stares at the viewer. The various elements that make up the work have very specific meanings, which create an allegory of marriage. The painting was made on the occasion of the wedding of Guidobaldo II with Giulia Varano. The themes represented are: the woman duties toward her husband, represented by the evident sensuality; marital fidelity, represented by the little dog sleeping next to Venus; the girl rummaging inside the dresser in the background represents a maternity omen.
Usually, the masterpiece by Titian is exhibited in the room dedicated to the Venetian master at the Uffizi. In the past 13 years, the work was exhibited in Brussels, Tokyo, Madrid and Venice. However, it never «came back home», in the city of Urbino, from which it takes its name.
From September 6 to December 18, the work will be exhibited at the Palazzo Ducale in Urbino. Visitors will have the chance to admire it in the artistic and cultural context in which it was born.