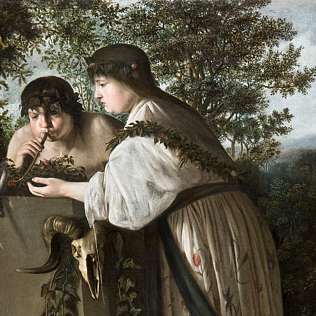 Since June, the room 54, dedicated to the Dutch painters of the 17th century from Haarlem and Utrecht, has a new host, the oil on canvas Scene of Sacrifice by Paulus Bor. A newcomer, due to the researches by the former director of the Uffizi, Antonio Natali, who studied and took the canvas, and to the usual generosity of the Friends of the Uffizi Gallery association, which financed the purchase.
Paulus Bor (1601-1669) makes his entrance at the Uffizi: he is a Dutch painter of the so-called Golden Age, little known to the public because of his reduced production, which has just about thirty works. He spent some time in Rome, where he met the ancient art but also learned Caravaggio's lesson. According to the critics, his production is influenced by the Italian master, but also by Rembrandt. His subjects are unusual, out of the common artistic production of his contemporaries. He came from a very wealthy family, and this fact, probably, allowed him to devote himself to his art not for commissions, but for his personal taste.
In the room dedicated to his Dutch contemporaries, Bor's canvas stands out for its originality. Scene of Sacrifice depicts a woman, wrapped in a mantle covered with flowers, which is going to sacrifice a bird placed on an altar. Beside her, a young bare-chested guy - probably a shepherd – is blowing into a little cane to feed the fire. The scene looks mysterious, because it was not recognized any artistic or literary reference. The female figure should be a sorceress, represented in her calm and persuasive intent, in keeping with the solemnity of the rite that she is making.
In this painting, space construction is less important than the distribution of the forms. We can also note the realism of some elements, such as the skull of ram and the transparent veil of woman.
A new artist is now part of the collection of the Uffizi, which is continually renewed. The big public will finally see a valuable artist, though still little known.