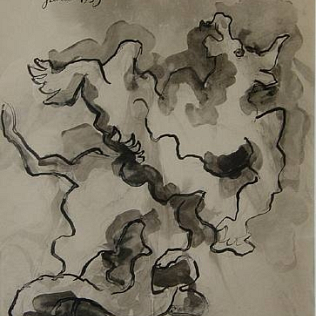 Jacques Lipchitz (1891-1973) – the Lithuanian artist considered as a pioneer of Cubism sculpture – is the protagonist of the new exhibition at the Department of prints and drawings of the Uffizi. Why is the Department dedicating an event to this sculptor? Just like many eminent colleagues, Lipchitz spent much time and care to the graphic design of his artworks. So, thanks to his drawings, we can reconstruct the various phases of his creating process and experimentations.  
Who was Jacques Lipchitz? The artist lived the great artistic Parisian period, during the first decades of the 20th century. Here he got in touch with – among the others – Picasso, Braque and Modigliani, that portrayed him and his wife in a famous painting. 
His work was deeply innovative. In the middle of the Twenties he conducted an artistic research linked to the representation of forms in the space. He arrived to the creation of the so-called transparent sculptures. Gradually he turned away from the typical sharp-cornered Cubist forms. 
Famous all over the world, he took shelter in New York during the Nazi occupation of France. He was of Jewish origin, so he risked to be deported to death camps. During the Seventies he settled in Italy. He died in Capri, in 1973. 
So, why an exhibition dedicated to Lipchitz has been organized by the Uffizi? Recently the Lipchitz Foundation made a double donation, to the Department of prints and drawings of the Uffizi and to the Staatliche Graphische Sammlung of Munich. The donation counts above 60 pieces among drawings, etchings and a book of sketches, found in a folder of the artist, together with many other works.
It has been decided to realize a joined project by Italian and German institutions. A first exhibit took place in Munich, while now the Florentine one is ongoing. A third donation has been assigned to the Palazzo Pretorio Museum, in Prato. This museum has and exhibits a series of sculptures by the artist, so the donation completes the collection and it confirms the complementarity between drawing and sculpture.
The exhibitions of Florence and Prato document the entire period of activity of the artist: we have the possibility to know the various phases of his career and to appreciate their differences. 
At the Uffizi Gallery the artworks are displayed in the Department of prints and drawings and in the next Sala del camino (Room of the Fireplace). The exhibition is organized by Marzia Faietti, with Maria Elena De Luca and Giorgio Marini.