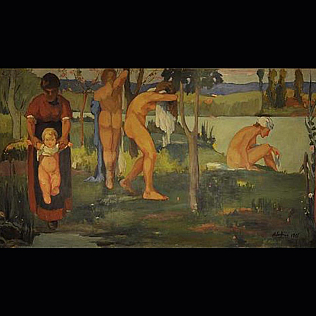 The first monographic exhibition dedicated to Ardengo Soffici (1879-1964) is going to be inaugurated at the Uffizi Gallery, on September 26th. It is entitled Discoveries and massacres: Soffici and the Avant-Garde in Florence.
Ardengo Soffici was a very important person for the Florence of the early Twentieth century: he was a painter, writer, art critic. Furthermore, his figure was central in the artistic and cultural debate. For example, he organized the first exhibition of the Impressionism in Italy, which was held in Florence in 1910.
The exhibition title, Discoveries and massacres, is taken from that of the collection of his writings, published in the early decades of the twentieth century. We talk about artistic discoveries, but also about massacres, because he could be ruthless in criticizing what he did not like.
The exhibition presents works by Soffici, but mostly by other artists, such as Segantini, Cézanne, Picasso, Renoir, Degas, Medardo Rosso, Carra and De Chirico. In the set-up of the exhibition, each work is accompanied by critical pages that Soffici wrote about them. Some are among his discoveries, others among his ruthless massacres.
The exhibition will run until 8 January 2017.