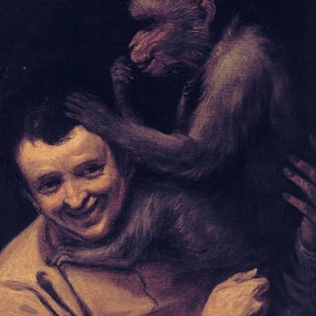 Annibale Carracci (1560-1609) was an Italian painter from Bologna, considered one of the great masters who laid the basis for Baroque art. Annibale succeeded in modernizing the great painting of the Italian Cinquecento, bringing it to the recovery of the imitation of the true. Annibale, in his genre painting, often represented scenes of daily and working life. He distinguishes himself from his predecessors because he depicted such scenes with dignity, respect, and realism, even when he painted figures considered humble at that time. Of course, the Bolognese artist also produced works of other genres, such as scenes from ancient mythology and religious paintings.
The collaboration with his brother Agostino and his cousin Ludovico was very important for Annibale. The three artists created many important works together, such as the frescoes of Palazzo Fava, in Bologna. They also founded the Academy of the Incamminati, one of the first art academies in Italy. The purpose of this \"school\" was to form - even from a practical point of view - young artists in the reproduction of reality.
Annibale worked in Bologna, his hometown, and in Rome. However, at the Uffizi Gallery in Florence there are some of his paintings, such as Venus and Satire with two lovers, the Man with Monkey, a Madonna and a Profile Self-Portrait.
In Florence there are not only paintings by Carracci. The Department of Drawings and Prints of the Uffizi has the largest collection of Carracci\'s drawings in Italy.
Carracci\'s works at the Uffizi are among the elements that make the collection of the museum rich and able to represent Italian art, not just the Florentine one.