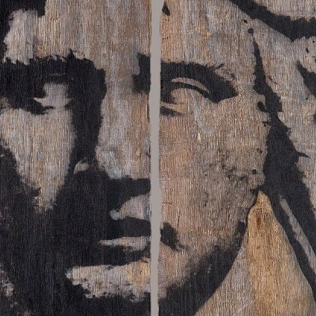 The Italian artist Luca Pignatelli donated to the Uffizi Gallery his self-portrait, entitled \"Mithridates, King of Pontus.\" The work will become part of the Vasari Corridor collection of self-portraits.
On the occasion of this donation, an exhibition at the Fireplace room – adjacent to the Department of Prints and Drawings – was inaugurated a few days ago. The exhibition features the self-portrait and other eight works, paintings on old wooden planks.
In these works, as always in Pignatelli's ones, the present dialogues with the past. The classic heads rest on wooden support that shows, in the natural grain or in its more worn parts, the sign of the passage of time, the reality of a support in some ways so close to that of the sculptures.
The exhibition title, easily connected to the facts of the chronicle in this historical period, takes one of the favorite issues to the artist, the difficult dialogue between what we are and what we have been, in history and tradition. Pignatelli's migrants, in fact, have the appearance of the classic western.
The director Antonio Natali says: \"The Self-portrait of Pignatelli, that under a kind of Mithridates appearance comes in the collections of the Uffizi by virtue of a gift from the artist, becomes lyrical emblem, with its happy mingling of old and new, on one of the ideological assumptions underlying the dream that Francis I manifested in the Gallery and in the museological choices made by whom inherited the care of the Gallery, during the time: the coexistence of seasons far apart. Ancient and modern coexist in the collections and, indeed, compete with each other. History do not know diaphragms; and art is no exception.\"
A vibrant culture, in short, that interacts with life and contemporary, not merely closed in the space of the museum exhibition.
Luca Pignatelli is an artist appreciated all over the world, artistically linked to Florence, where he has held solo exhibitions, now confirmed by this exhibition that intends to celebrate his gift and his entrance into the large collection of the Corridor.