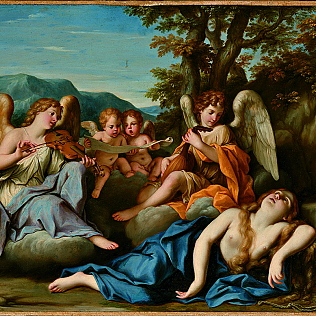 The collection Molinari Pradelli is known worldwide for the consistence of the works, the selected quality and the specific connotation instilled by the refined taste and an extraordinary intuition of the famous orchestra conductor Francesco Molinari Pradelli.
The master was born in Bologna in 1911 and from the first performances in the late 30's press already called him "up and coming director" while Arturo Toscanini reported him as a young man " with talent who will make a career."
In the 50's took off his international career and at the same time his passion for painting.
Initially he picked up paintings of the nineteenth century, and then turn to the Baroque painting and still life, whose studies were still at the beginning.
At the time, that genre of painting fans weren't many, this helps us to understand his independence of judgment as well as the desire for knowledge, beyond the trends and the opinions of critics and historians.
This passion made ​​him a true connoisseur of Italian baroque painting, and a forerunner of the modern studies of still life.
Over the years the collection of about two hundred paintings have been admired by the great historians of the twentieth century, Europeans and Americans.
The selection of one hundred paintings of the exhibition The Rooms of the Muses shows how the master privileged the painting of the seventeenth and eighteenth centuries documenting the various Italian schools, without exception:
- figuerine paintings of the Emilian school, works by Pietro Faccini, Mastelletta, Guido Cagnacci, Marcantonio Franceschini and especially Gandolfi brothers
- Neapolitan school, paintings by Luca Giordano, Micco Spadaro, Francesco De Mura, Lorenzo De Caro and so on
- Venetian artists, Palma the Younger, Alessandro Turchi, Sebastiano Ricci, Giovanni Battista Pittoni
- Ligurian and Lombard artists, Bernardo Strozzi, Bartolomeo Biscaino, Giulio Cesare Procaccini, Carlo Francesco Nuvolone, Fra Galgario, Giuseppe Bazzani
- Roman artists such as Gaspard Dughet, Pier Francesco Mola, Lazzaro Baldi, Paolo Monaldi.
To give the collection an international fame, however, were exactly the numerous still life paintings by artists such as Jacopo da Empoli, Luca Forte, Giuseppe Recco, Cristoforo Munari, Arcangelo Resani, Carlo Magini.
A cinematographic section by the film director Pupi Avati enriches the exhibition, evoking the Bologna of the time of the great orchestra conductor and collector.