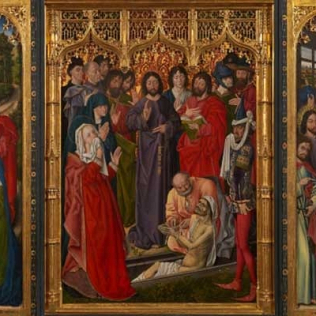 The Resurrection of Lazarus is a triptych by the French painter Nicholas Froment (1430-1486), who worked in Picardy, his region of origin, and especially in Provence. The painting, signed and dated 1461, is one of the few works by Froment still existent.
The painting is considered one of the most important of the collection of XV century foreign artists of the Uffizi Gallery. It was made for a prelate from Prato, Francesco Coppini, and has been preserved in the Franciscan convent of Bosco ai Frati in Mugello, until the Napoleonic era.
The restoration has brought to light the shining colors and the most minute and interesting details made by Froment. The restoration also involved the frame, also made by Froment, above all the Gothic tracery of the central panel.
The Italian buyers were very interested in the Northern European art, even during the Renaissance. This important work of Froment is one example of this passion.
The Resurrection of Lazarus and its restoration are the protagonists of an exhibition - curated by Daniela Parenti - to be held from March 7 to April 30, at the Sala del Camino in the Uffizi Gallery.