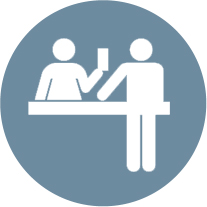 Reservation Service
The booking service is available in the reception area of the New Uffizi, and via a telephone booking center.
The information and booking desks for the Uffizi Gallery ticket are open during the museum opening times (from Tuesday to Sunday, from 8.30 to 19.00 - Ticket offices close at 18.05);
The telephone booking center is open from Monday to Friday from 8.30 a.m. to 6.30 p.m. and on Saturdays from 8.30 to 12.30.
Visiting either of the two information desks or phoning the booking centre, you will receive free information on opening times, exhibitions, admission charges. Booking will only be considered confirmed after payment has taken place.